Broken Lights (paperback)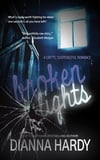 First Edition ISBN 9781505432701 is now out of print.
Second Edition ISBN 9781916840003 (with cover shown above) will be available on 28th September and will be available from British libraries.
Signed paperback, from this site only: £12.00
_____________
Norman Smithson is at the end of the line. His wife left him, women don't look at him, he was made redundant, and at forty, he could be just that little bit slimmer. He would be a has-been if he'd ever been a 'was' in the first place. He's not the Alpha male of the 21st century – or of any century. He was the chubby oddball who used to sit silently at the back of the class so he wouldn't get picked on.
Rosa is a dreadlocked, tattooed and pierced twenty-something, who uses her image as armour to keep everyone away from every broken thing about her. But her past is about to catch up with her … at the exact moment Norman finds himself in completely the wrong place, at the worst possible time.
One gunshot, one scramble for life, one unlikely couple, one very long night … can one damaged woman and one ordinary man, find the extraordinary in the very last second they're given?
Broken Lights is a standalone story of what's really worth fighting for when one second is all you have left.
Published by our imprint, Satin Smoke Press.